Sathish Kumar
Age Group Coach
Thiruvananthapuram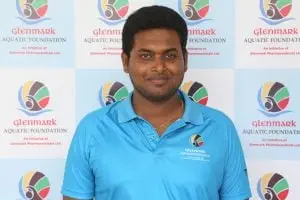 Biography
Sathish had started swimming at the age of 6 and started competitive swimming at 9. During his competitive swimming career he had participated in many competitions and secured more than 500 odd medals, several Individual championship in all age categories.
He has represented Tamil Nadu state for 4 times in National sub junior and junior age group championship and won 2 silver and 3 bronze medals. In the National School games Satish has won over 5 medals.  Satish represented Madras University 2 Times in All India Inter university meet and secured 1 gold and silver.
Sathish Played water polo for Tamil Nadu state in south zone meets and won Bronze.
With his love and passion for sport he started part time coaching in 2012. After pursuing the NIS (diploma in sports coaching) degree in 2014, he started his professional career as swimming coach. Sathish is a FINA certified ASCA level 1 and 2 qualified Swimming coach