Sarojini Devi A.A.
Assistant Coach, SGTIDM Delhi
Delhi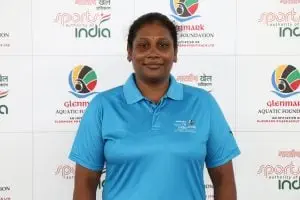 Biography
Sarojini is one of the talented young swim coaches in India. She has topped the NIS 2014-15 batch in Swimming, Sports Physiology and Sports Medicine.She has completed her internship from the Sports Authority of India and later joined Sports Authority of Tamilnadu, Madurai as a visiting coach wherein she has produced state level and national level medalists. One of her swimmers has created 2 National records in the 9th Asian Age Group Championships 2017. She again joined the Sports Authority of India in November 2017 and since then training SAINSA swimmers at Dr. SPM Swimming Pool Complex, New Delhi.
Sarojini has represented Tamil Nadu team at National level for 29 times. She has secured 201 State level and 42 district level medals along with 11 individual championship trophies at the State level and 7 at the District level.