Partha Pratim Majumder
Head Coach, SGTIDM Delhi
Delhi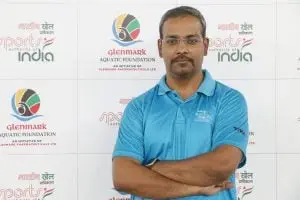 Biography
Partha Pratim Majumder is a FINA certified ASCA level 5 certified swimming coach. With over 20 years of experience, Partha has an experience of coaching both in India and Abroad.
Partha has completed multiple certifications and attended several coaches' clinics in his career.
He has done Master in Sports Science from Institute of Sports Science and Technology.
USA
Instructor Course from YMCA Greater NYC (Which contained Training program from Pre-School level to Senior Citizens) Attended multiple Courses and Clinics in USA w.e.f 2004 including World Clinic, Brian Swim Clinic, Y(Courses) e ASCA Clinic at Jacksonville 14.
Partha is a certified Mind Trainer, Swim Coach and Sports Nutrition Expert from NFHS (National Federation of State High School Associations).
AUSTRALIA
Masters Club Course from Masters Swimming Australia.
Community coaching (General Principles) course from Australian Institute of Sport (AIS).
ASIA
Clinic at Dubai at Asian Swimming Championship 2012
FINA Clinic (Malaysia), 
South East Asian Conference in 2015 at Bangkok
Completed Long Term and Seasonal Planning course from Coaches Info.com., UK
International Coaching Experience
Worked as Guest Coach in THE FISH (US Gold Medalist Club) at Virginia, USA in 2005-06 which had top swimmers of USA
Selected as Coach in Conducting a National Camp for Asian Age Group Championship held at Bangalore by Swimming Federation of India held in July 2005.
Conducted 1st International Coaches Clinic at Ghana, Africa organized by National sports council and recognized by WSCA. Coaches of Four African countries attended the clinic
Advisor: Albatross Swimming School, Ghana, Africa
Swimming Director cum Selector: GCM International Age Group Meet at Malaysia, Indonesian National Meet. Conducts several Private Swimming Camps during his visit to different places with a team of Coaches in India and Abroad.
Guest Coaching experience at Singapore National Centre and Boles School, Florida, the USA under the invitation of Sergio Lopez
OTHER COACHING EXPERIENCES
HEAD COACH: Indian Life Saving Society (Champion Club in 6 out of 8 Age Group and in Open Women) & YMCA (Calcutta) [champion club in MENS] & and generated some top State, National & International Level swimmers.
Conducted Camps as Swim Director in DOON SCHOOL,
Worked as Head Coach of La Martini ere School for Girls and Calcutta University for All India University National.
Other positions
Swimming Director: Calcutta Swimming Club, Saturday Club & BRC.
Organizer of SKOOL SWIM RANKING MEET – Popular School Swimming Meet among the Top Schools of West Bengal and India (Doon, Int School of Bangalore, LMG, LMB, CIS, DPS, MHG, Don Bosco etc.) of Kolkata which started in 2009 onwards.