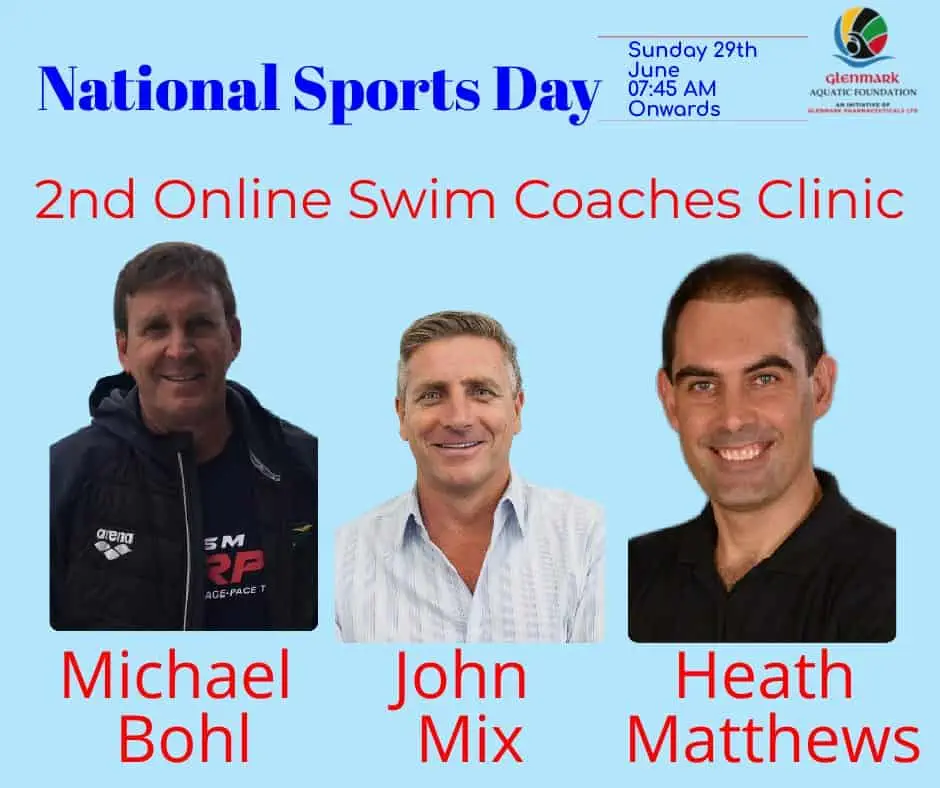 Swim.clinic to host webinar on National Sports Day
In its mission to educate coaches, Swim.clinic will conduct a webinar on 29th August 2021 on the occasion of National Sports Day.
Swim.clinic a platform to enhance the knowledge for swim coaches in India will hold a webinar on the occasion of National Sports Day on 29th August.
The webinar will begin from 8 AM. The impressive speaker list includes John Mix, Heath Matthews and Michael Bohl.
John Mix is the CEO and Co-Founder of FINIS and a former water polo player and swimmer. He is arguably the greatest inventor of equipment to enhance swim coaching. Right from the Monofin to the Tempo trainer John has had multiple inventions to his name which are commonplace in training today. He is deeply involved with coaches and will speak about his views on the Tokyo Olympics.
Heath Matthews is the CEO of heathmatthewsphysio.com and is a sports medicine expert based in India. Heath has worked with swimmers for the past 6 years. He has consulted topo atheletes including Saina Nehwal, Sachin Tendulkar Neeraj Chopra. He has been involved with the Indian Super League and Mumbai Indians. Heath will be speaking on Long Term Athlete Development.
Michael Bohl is a legendary Australian coach and swimmer. His swimmers include Stephanie Rice and the girl who created history at Tokyo Emma Mckeown. Emma won 7 medals at the games and became the most decorated Australian swimmer ever. Michael will speak about Emma's journey and also touch upon the recent Tokyo Olympics.
The Session is free to attend.