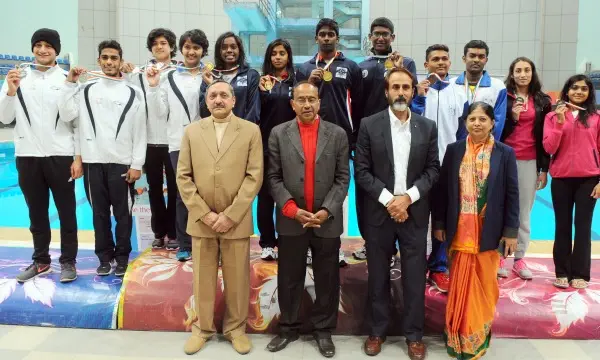 SGTIDM Swimmers Shine in Khelo India
Recently concluded Khelo India is one of the most ambitious projects of PM Narendra Modi. This National program is a step towards the development of sports across the country.
The Swimming Events were held at the Dr. SPM Swimming Complex in Delhi and swimmers from SGTIDM performed exceeding well helping Delhi to secure the position in swimming.
Details of medal winners are given below
| | | | | | | | | | | | | | | | | | | | | | | | | | | | | | | | | | | | | | | | | | | | | | | | | | | | | | | | | | | | | | | | | | | | | | | | | | | | | | | | | | | | | | | | | | | | | | | | | | | | | | | | | | | | | | | | | | | | | | | |
| --- | --- | --- | --- | --- | --- | --- | --- | --- | --- | --- | --- | --- | --- | --- | --- | --- | --- | --- | --- | --- | --- | --- | --- | --- | --- | --- | --- | --- | --- | --- | --- | --- | --- | --- | --- | --- | --- | --- | --- | --- | --- | --- | --- | --- | --- | --- | --- | --- | --- | --- | --- | --- | --- | --- | --- | --- | --- | --- | --- | --- | --- | --- | --- | --- | --- | --- | --- | --- | --- | --- | --- | --- | --- | --- | --- | --- | --- | --- | --- | --- | --- | --- | --- | --- | --- | --- | --- | --- | --- | --- | --- | --- | --- | --- | --- | --- | --- | --- | --- | --- | --- | --- | --- | --- | --- | --- | --- | --- | --- | --- | --- | --- | --- | --- | --- | --- | --- | --- |
| {"id":"3" | name":"Khelo India Delhi" | description":"" | author":"1" | last_modified":"2018-02-16 14:03:41" | data":[["Name" | Gold | Silver | Bronze | Total"] | ["Aaryan Bhosale" | 0 | 1 | 1 | 2"] | ["Annie Jain" | 2 | 1 | 1 | 4"] | ["Anubhuti Baruah" | 0 | 1 | 0 | 1"] | ["Anurag R Singh" | 0 | 0 | 1 | 1"] | ["Astha Chaudhary" | 0 | 1 | 1 | 2"] | ["Bastab Tapan Bordoloi" | 0 | 1 | 0 | 1"] | ["Sanskar Tokas" | 0 | 0 | 1 | 1"] | ["Firdoush Kayamkhani" | 3 | 0 | 1 | 4"] | ["Prachi Tokas" | 0 | 1 | 0 | 1"] | ["Shivangi Sharma" | 0 | 2 | 0 | 2"] | ["Swadesh Mondal" | 0 | 2 | 1 | 4"] | ["Tanish Kaswan Naysar" | 0 | 1 | 1 | 2"] | ["Tanisha Malviya" | 0 | 1 | 1 | 2"] | ["Veer Khattar" | 0 | 0 | 1 | 1"]] | options":{"last_editor":1 | table_head":true | table_foot":false | alternating_row_colors":true | row_hover":true | print_name":false | print_name_position":"above" | print_description":false | print_description_position":"below" | extra_css_classes":"" | use_datatables":true | datatables_sort":true | datatables_filter":true | datatables_paginate":true | datatables_lengthchange":true | datatables_paginate_entries":10 | datatables_info":true | datatables_scrollx":false | datatables_custom_commands":""} | visibility":{"rows":[1 | 1 | 1 | 1 | 1 | 1 | 1 | 1 | 1 | 1 | 1 | 1 | 1 | 1 | 1] | columns":[1 | 1 | 1 | 1 | 1]}} |