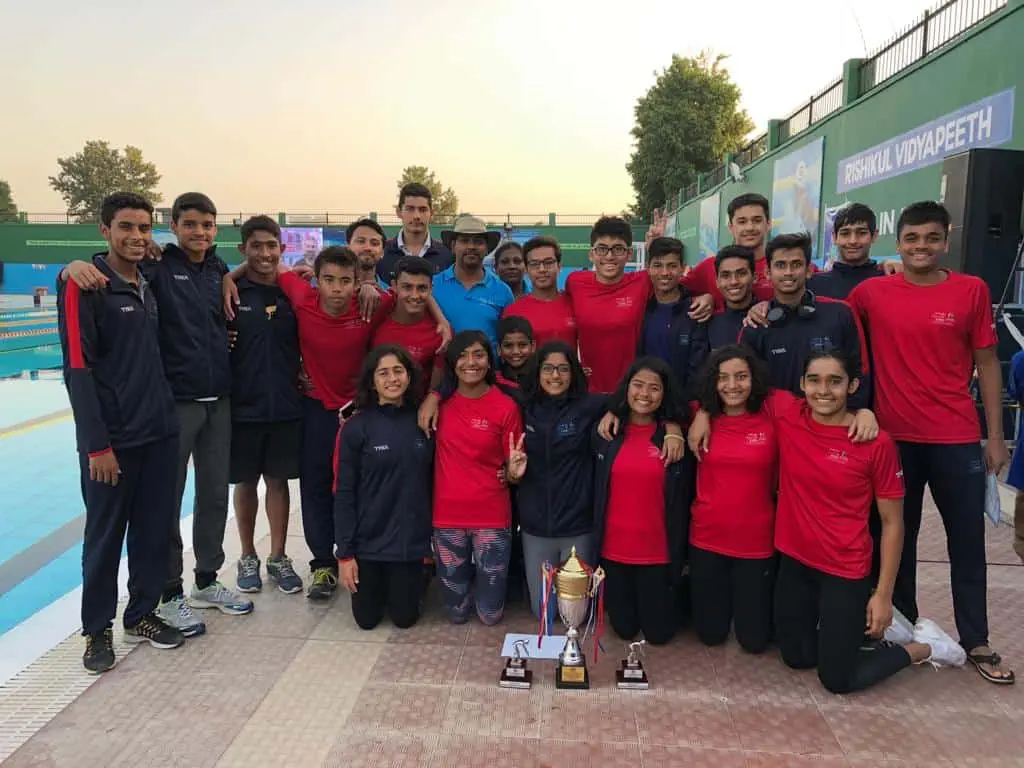 SGTIDM and GAF swimmers win 107 medals at 3rd All India SFI Inter Club Championships
Swimmers from Sai Glenmark TIDM programme and Glenmark Aquatic Foundation Delhi performed extremely well to win a total of 108 medals. SGTIDM finished second in the Medal Tally as well as the Overall championships while GAF Mumbai finished fourth in the medal tally and sixth on the points table.
Team SGTIDM won the highest number of medals in the meet.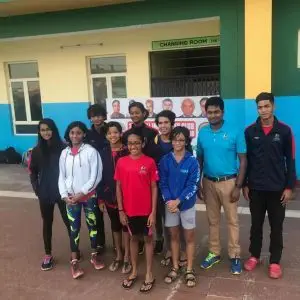 Four swimmers won the individual championship showcasing their brilliance across the meet.
Swadesh Mondal won the best swimmer championships in boys Group II while Prachi Tokas was crowned the champion in the girls Group I category. Ansu Kar won the Junior Championships in the Boys Group III section. Kiara Bangera won the Championships in the Girls Group III category.
If both the teams had participated under one umbrella swimmers from both the centres of Glenmark Aquatic Foundation would have topped both the medals tally and points table by a big margin
Please find the medal details below
| Team | Gold | Silver | Bronze | Total | Points |
| --- | --- | --- | --- | --- | --- |
| GAF Delhi | 36 | 33 | 18 | 87 | 549 |
| GAF Mumbai | 9 | 8 | 3 | 20 | 155 |
| Total | 45 | 41 | 21 | 107 | 704 |
The details of all the performances of all the swimmers is given below
| Name | Event | Time Clocked | Medal |
| --- | --- | --- | --- |
| Kiara Bangera | 100 fly | 01:10.73 | Gold |
| Pushya Sahajwani | 100 fly | 01:16.52 | Silver |
| Palak Dhami | 100 bk | 01:11.50 | Silver |
| Arya Kriplani | 100 bk | 01:15.42 | Bronze |
| Zahra Sakharwala | 100 BR | 01:25.41 | Gold |
| Bhumi Gupta | 50fly | 00:31.60 | Bronze |
| Vishal Grewal | 400 Free | 04:12.47 | Gold |
| Prachi Tokas | 400 Free | 04:44.31 | Gold |
| Anurag Singh | 400 Free | 04:13.00 | Silver |
| Swadesh Mondal | 50 BR | 00:32.13 | Gold |
| Navya Singhal | 400 FS | 04:53.34 | Silver |
| Nanak Moolchandani | 100 BK | 01:02.79 | Silver |
| Soubrity Mondal | 100 BK | 01:09.73 | Silver |
| Uttara Gogoi | 50 Fly | 00:30.90 | Silver |
| Bikram Changmai | 50 BR | 00:32.56 | Silver |
| Aaryn Bhosale | 100 BK | 01:04.55 | Bronze |
| Shivangi Sarma | 50 Fly | 00:30.93 | Bronze |
| Firdoush Khayamkhni | 50 Fly | 00:31.17 | Fourth |
| Deva Ganesh | 100 fly | 01:14.48 | Sixth |
| Army Pal | 400 FS | 04:24.95 | |
| Sanskar Tokas | 400 FS | 04:18.53 | |
| 4 X 100 FS | Boys Group I | | Silver and Bronze |
| 4 X 100 FS | Girls Group I | | Gold |
| 4 X 100 FS | Boys Group II | | Gold and Silver |
| Bhumi Gupta | 200 m IM | 02:36.18 | Silver |
| Arya Kriplani | 200 m IM | 02:42.64 | |
| Kiara Bangera | 200 m FS | 02:15.17 | Gold |
| Kshama Iyer | 200 m FS | 02:28.47 | |
| Devanshi Desai | 200 m FS | 02:33.37 | |
| Pushya Sahajwani | 200 m FS | 02:35.04 | |
| Palak Dhami | 200 m FS | 02:15.22 | Silver |
| Bhumi Gupta | 200 m FS | 02:27.11 | |
| Abha Mirasi | 50Fly | 00:33.32 | Gold |
| Soubrity Mondal | 200 m IM | 02:30.61 | Gold |
| Janhavi Choudhury | 200 m IM | 02:34.05 | Gold |
| Ansu Kar | 200 m FS | 02:07.46 | Gold |
| Bikram Changmai | 200 m Fly | 02:11.66 | Gold |
| Swadesh Mondal | 200 m BR | 02:30.90 | Gold |
| Prachi Tokas | 200 m FS | 02:14.51 | Gold |
| Astha Choudhary | 200 m FS | 02:11.71 | Gold |
| Veer Khatkar | 50 m FS | 00:25.11 | Gold |
| Firdoush Khayamkhani | 200 m IM | 02:34.45 | Silver |
| Sanskar Tokas | 200 m Fly | 02:12.11 | Silver |
| Divyansh Arora | 200 m Fly | 02:19.10 | Silver |
| Subhojit Gupta | 200 m Br | 02:44.95 | Silver |
| Shivangi Sarma | 200 m FS | 02:16.41 | Silver |
| Aryan Varnekar | 50 m FS | 00:25.50 | Silver |
| Soubrity Mondal | 50 m Bk | 00:32.66 | Silver |
| Uttara Gogoi | 50 m Bk | 00:34.44 | Silver |
| Navya Singhal | 200 m IM | 02:40.88 | Bronze |
| Tanish Kaswan | 200 m Br | 02:27.96 | Bronze |
| Janhavi Choudhury | 200 m FS | 02:22.30 | Bronze |
| Hiren | 50 m FS | 00:26.66 | Bronze |
| Arindam Das | 200 m Fly | 02:21.27 | |
| Aditya Dubey | 200 m BR | 02:34.85 | |
| Deva Ganesh | 50 m Fly | 00:32.56 | |
| 4 X 50 FS | Girls Group 3 | GAF Mumbai | Gold |
| Vedaant Madhavan | 200 FS | 02:05.64 | |
| Rishikesh Bora | 200 IM | 02:24.79 | Bronze |
| Kiara Bangera | 100 FS | 01:03.39 | Gold |
| Zahra Sakharwala | 100 FS | 01:07.71 | Silver |
| Kshama Iyer | 100 FS | 01:08.67 | |
| Devanshi Desai | 100 FS | 01:09.50 | |
| Bhumi Gupta | 100 Fly | 01:13.73 | |
| Zahra Sakharwala | 50 BR | 00:39.74 | Gold |
| Palak Dhami | 400 FS | 04:46.90 | Silver |
| Astha Choudhury | 400 FS | 04:43.43 | Gold |
| Gyan Kashyap | 200 FS | 02:02.34 | Gold |
| Prachi Tokas | 200 Br | 02:56.81 | Gold |
| Ansu Kar | 100 FS | 00:59.62 | Gold |
| Vishal Grewal | 200 IM | 02:15.97 | Gold |
| Swadesh Mondal | 200 IM | 02:14.78 | Gold |
| Janhavi Choudhury | 50 FS | 00:29.04 | Gold |
| Vishal Grewal | 200 FS | 01:58.50 | Silver |
| Hiren | 200 FS | 02:04.93 | Silver |
| Sanskar Tokas | 200 IM | 02:17.09 | Silver |
| Veer Khatkar | 200 IM | 02:19.11 | Silver |
| Astha Choudhury | 100 Fly | 01:07.68 | Silver |
| Tanish Kaswan | 100 BR | 01:08.73 | Silver |
| Veer Khatkar | 50 Bk | 00:30.43 | Silver |
| Nanak Moolchandani | 50 Bk | 00:28.63 | Silver |
| Anurag Singh | 200 FS | 02:00.18 | Bronze |
| Navya Singhal | 100 Fly | 01:11.03 | Bronze |
| Aaryan Bhosale | 50 BK | 00:29.36 | Bronze |
| Aaryan Bhosale | 200 IM | 02:18.14 | |
| Aditya Dubey | 100 BR | 01:10.11 | |
| Subhojit Gupta | 100 BR | 01:18.29 | |
| Army Pal | 200 FS | 02:02.95 | |
| Subhojit Gupta | 200 IM | 02:30.95 | |
| Firdoush Khayamkhani | 100 Fly | 01:08.24 | Gold |
| Uttara Gogoi | 100 Fly | 01:07.61 | Gold |
| Swadesh Mondal | 100 Br | 01:11.22 | Gold |
| 4 X100 Medley | Boys Group I | GAF Delhi | Silver and Bronze |
| 4 X100 Medley | Boys Group II | GAF Delhi | Gold and Silver |
| 4 X100 Medley | Girls Group I | GAF Delhi | Gold |
| 4 X 50 Medley | Gorls Group III | GAF Mumbai | Gold |
| Abha Mirashi | 200 IM | 02:46.89 | Silver |
| Pushya Sahajwani | 200 IM | 02:52.79 | |
| Palak Dhami | 200 Bk | 02:33.73 | Silver |
| Rishikesh Bora | 100 Fly | 01:03.74 | |
| Abha Mirashi | 100 Bk | 01:21.42 | |
| Rishikesh Bora | 100 FS | 00:58.18 | |
| Vedaant Madhavan | 100 FS | 00:58.50 | |
| Devanshi. Desai | 50 FS | 00:31.51 | Gold |
| Vedaant Madhavan | 400 FS | 04:33.50 | |
| Gyan Kashyap | 400 FS | 04:21.21 | Gold |
| Astha Choudhury | 200 Fly | 02:31.76 | Gold |
| Firdoush Khayamkhani | 200 Fly | 02:32.51 | Gold |
| Soubrity Mondal | 200 Bk | 02:28.15 | Gold |
| Sanskar Tokas | 100 Fly | 01:01.99 | Gold |
| BikramChangmai | 100 fly | 00:58.27 | Gold |
| Prachi Tokas | 100 FS | 01:03.04 | Gold |
| Janhavi Choudhury | 100 FS | 01:02.64 | Gold |
| Veer Khatkar | 100 FS | 00:54.05 | Gold |
| Bikram Changmai | 50 FLY | 00:26.70 | Gold |
| Ansu Kar | 50 FS | 00:27.94 | Gold |
| Uttara Gogoi | 200 Fly | 02:35.80 | Silver |
| Nanak Moolchandani | 200 Bk | 02:13.27 | Silver |
| Army Pal | 100 Fly | 01:01.49 | Silver |
| Aryan Varnekar | 100 Fly | 00:58.46 | Silver |
| Aryan Varnekar | 100 FS | 00:55.82 | Silver |
| Aryan Varnekar | 50 Fly | 00:26.87 | Silver |
| Tanish Kaswan Naysar | 50 BR | 00:31.72 | Silver |
| Aryaan Bhosale | 200 Bk | 02:15.11 | Bronze |
| Navya Singhal | 200 Fly | 02:40.21 | Bronze |
| Arindam Das | 100 fly | 01:03.31 | Bronze |
| Hiren | 100 Fly | 01:01.08 | Bronze |
| Vishal Grewal | 100 FS | 00:55.02 | Bronze |
| Gyan Kashyap | 100 FS | 00:56.68 | Bronze |
| Gyan Kashyap | 50 flY | 00:28.45 | Bronze |
| Hiren | 100 FS | 00:58.42 | |
| Aditya Dubey | 50 Br | 00:32.24 | |
| Divyansh Arora | 400 FS | 04:35.50 | |
| Divyansh Arora | 100 fly | 01:02.75 | |
| Divyansh Arora | 50 fly | 00:29.30 | |
| Anurag Singh | 200 Bk | 02:18.54 | |
| Anurag Singh | 100 FS | 00:56.38 | |
| Deva Ganesh | 200 IM | 02:50.36 | |
| Army Pal | 100 FS | 00:59.46 | |