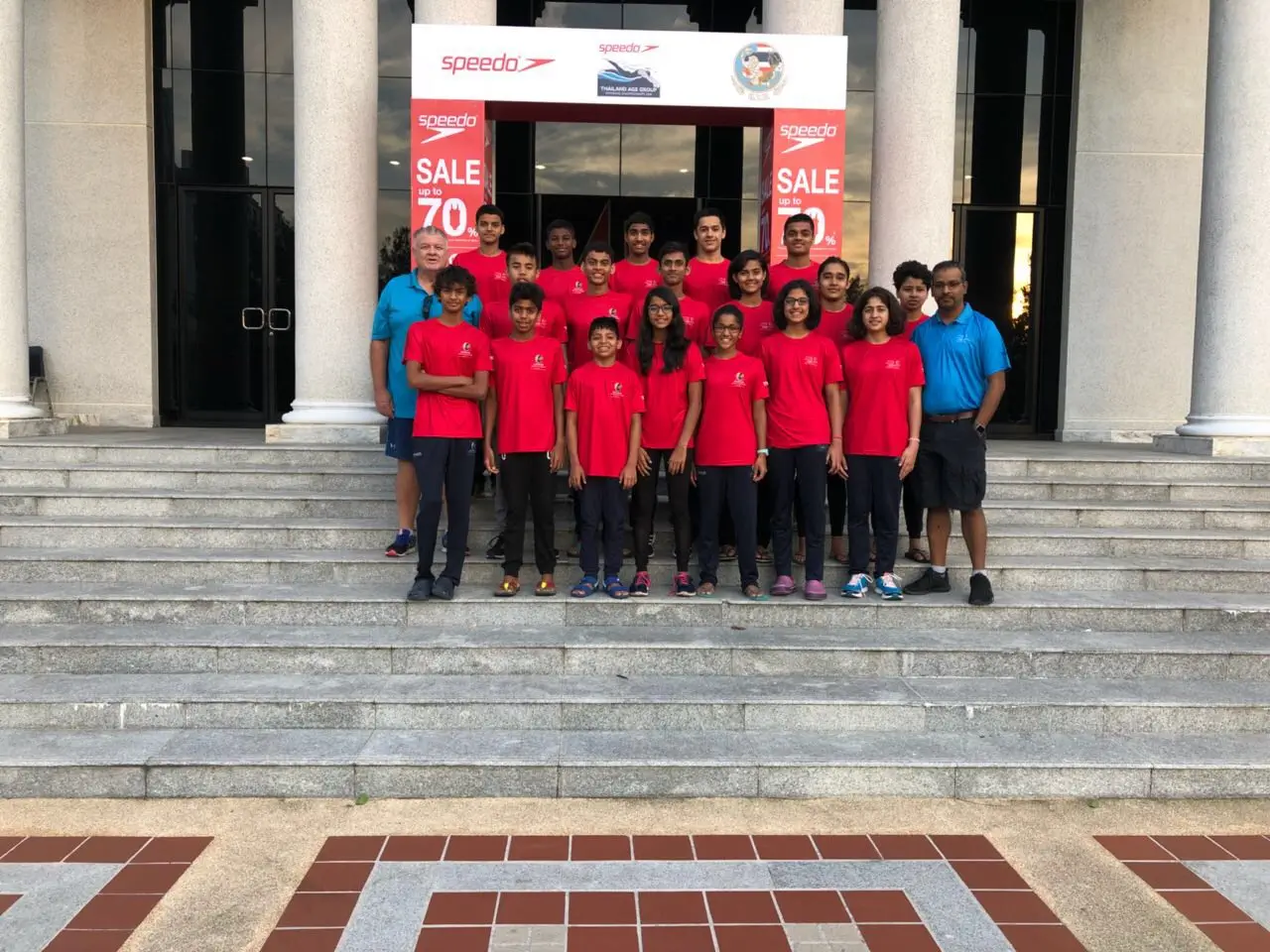 Glenmark Aquatic Foundation Swimmers win 15 medals at the Speedo Thailand Age Group Swimming Championships
Glenmark Aquatic Foundation Swimmers win 15 medals at the Speedo Thailand Age Group Swimming Championships
-Veer Khatkar, Bikram Changmai Aryan Vernekar and Swadesh Mondal clock timings better than National record.
18 swimmers from Glenmark Aquatic Foundation Mumbai and SAI Glenmark TIDM programme Delhi won a total of 15 medals at the Speedo Thailand Age Group swimming Championships held in Bangkok between 7th-11th April 2018. The Swimmers won a total of 5 Golds 5 Silvers and 5 Bronzes. It was a fantastic outing as more than 80% of the events saw swimmers record their personal bests.
Swadesh Mondal lived up to his reputation of being the brightest prospect among swimmers in the Under 14 category by swimming a better time than the current National record. Swadesh who won the best overall swimmer in Group II at the Glenmark Junior National Aquatic Championships clocked 02:26.40 to win gold which beats the National record for the same category also held by Swadesh with a time of 02:28.87. Swadesh again bettered his National record in 400 Individual Medley winning gold with a time of 04:43.07 bettering the National record which is at 04:49.33. The last day Swadesh clocking a time of 02:13.50 bettering his own National record which stands at 02:15.28 in the 200 IM winning gold in the process . He won a total of 5 medals including 3 golds one silver and one bronze..
Veer Khatkar, the upcoming swimming talent from Haryana won Gold in the 100 m Freestyle event in the 14-15 boys age group with a time of 00:54.55 which is better than the current national record in the Group II category which stands at 00:55.38. Veer also won bronze in the 50 m FS.
Young guns Aryan Vernekar and Bikram Changmai clocked 00:26.21 and 00:26.50 to win Silver and bronze in the 50m Butterfly. This betters the current National record which is at 00:26.68. Bikram also won a silver in the 100m Butterfly
Two young backstrokers Vedant Bapna and Aaryan Bhosale fought in all the 3backstroke races. Aaryan pipped Vedant to win gold in the 200 m Backstroke while Vedant pipped Aaryan to win bronze in the 100 m backstroke in addition to the silver in the 200 m backstroke. Aaryan finished third in 400 IM and 400FS but these did not count as medals as only 2 foreigners are allowed medals as per the rules of the event.
Vedaant Madhavan won a bronze in the grueling 1500m Freestyle in his first attempt at this race at an International meet.
Astha Chaudhary the upcoming swimmer for Assam won a silver in 100 m butterfly.
| Name | Event | Timing | Group | Medal |
| --- | --- | --- | --- | --- |
| Swadesh Mondal | 400 m Individual Medley | 04:43.07 | Boys 14-15 | Gold |
| Veer Khatkar | 50 m Freestyle | 00:25.05 | Boys 14-15 | Bronze |
| Bikram Changmai | 100 m Butterfly | 00:58.73 | Boys 13-14 | Silver |
| Aastha Chaudhary | 100 m Butterfly | 01:06.90 | Girls 14-15 | Silver |
| Vedaant Madhavan | 1500 m Freestyle | 18:31.08 | Boys 13-14 | Bronze |
| Swadesh Mondal | 100 m Breaststroke | 01:08.56 | Boys 14-15 | Silver |
| Vedant Bapna | 100 m backstroke | 01:00.91 | Boys 14-15 | Bronze |
| Swadesh Mondal | 200 m breaststroke | 02:26.40 | Boys 14-15 | Gold |
| Aryan Varnekar | 50 m Butterfly | 00:26.21 | Boys 13-14 | Silver |
| Bikram Changmai | 50 m Butterfly | 00:26.50 | Boys 13-14 | Bronze |
| Vedant Bapna | 200 m backstroke | 02:10.04 | Boys 14-15 | Silver |
| Veer Khatkar | 100 m Freestyle | 00:54.55 | Boys 14-15 | Gold |
| Aaryan Bhosale | 200 m backstroke | 02:10.04 | Boys 14-15 | Silver |
| Swadesh Mondal | 50 m Breaststroke | 00:31.75 | Boys 14-15 | Bronze |
| Swadesh Mondal | 200 m Individual Medley | 02:26.40 | Boys 14-15 | Gold |