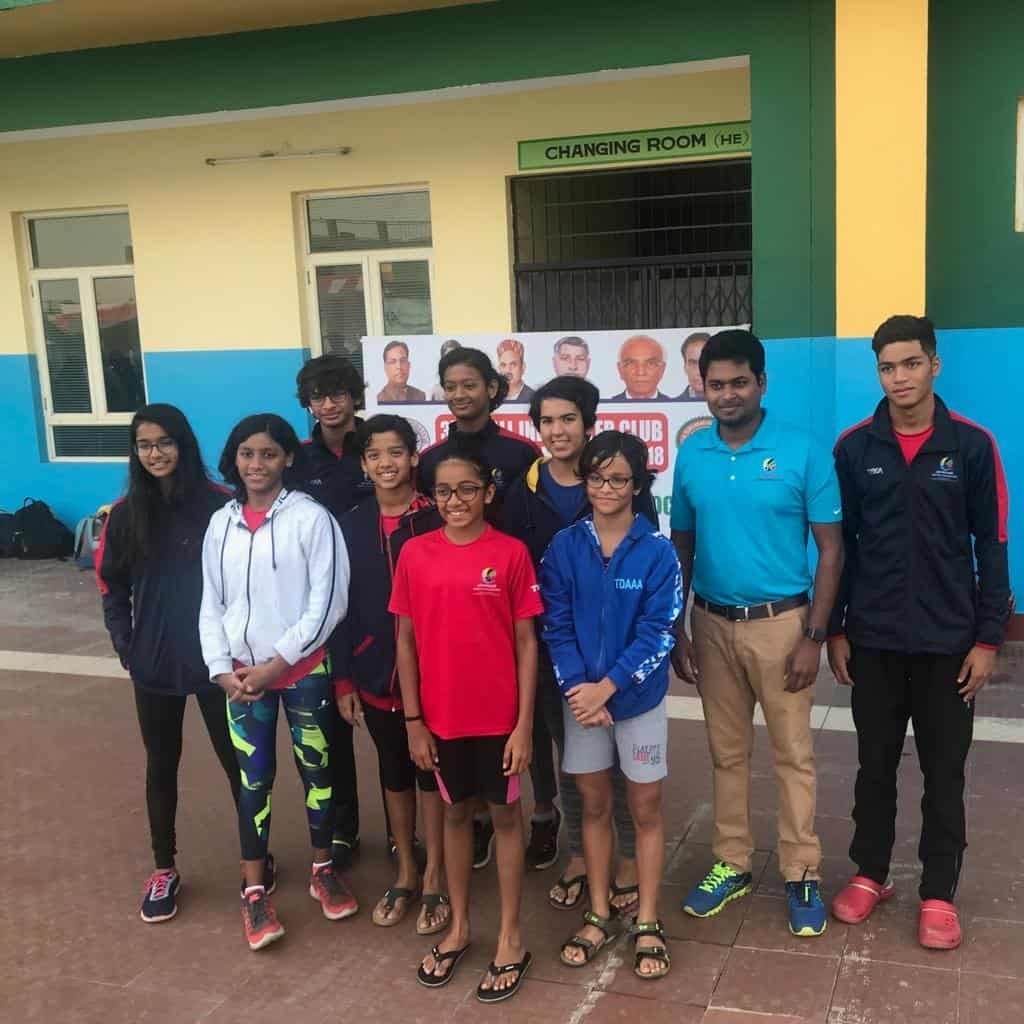 GAF Mumbai wins 20 medals at the 3rd All India SFI Inter Club Championships
Swimmers from GAF Mumbai won a total of 20 medals at the 3rd All India Inter club Championships which was held at Sonepat Haryana. Swimmers won a total of 9 Gold, 8 Silver and 3 Bronze medals. GAF finished fourth in the medals table and sixth according to the points table.
Most swimmers performed exceptionally well and recorded their best performances.
Kiara Bangera won the Championships in the Girls Group III, adding another feather in her cap.
Details of performance of all swimmers is given below
| Name | Event | Time Clocked | Medal |
| --- | --- | --- | --- |
| Kiara Bangera | 100 fly | 01:10.73 | Gold |
| Pushya Sahajwani | 100 fly | 01:16.52 | Silver |
| Palak Dhami | 100 bk | 01:11.50 | Silver |
| Arya Kriplani | 100 bk | 01:15.42 | Bronze |
| Zahra Sakharwala | 100 BR | 01:25.41 | Gold |
| Bhumi Gupta | 50fly | 00:31.60 | Bronze |
| Bhumi Gupta | 200 m IM | 02:36.18 | Silver |
| Arya Kriplani | 200 m IM | 02:42.64 | |
| Kiara Bangera | 200 m FS | 02:15.17 | Gold |
| Kshama Iyer | 200 m FS | 02:28.47 | |
| Devanshi Desai | 200 m FS | 02:33.37 | |
| Pushya Sahajwani | 200 m FS | 02:35.04 | |
| Palak Dhami | 200 m FS | 02:15.22 | Silver |
| Bhumi Gupta | 200 m FS | 02:27.11 | |
| Abha Mirasi | 50Fly | 00:33.32 | Gold |
| Vedaant Madhavan | 200 FS | 02:05.64 | |
| Rishikesh Bora | 200 IM | 02:24.79 | Bronze |
| Kiara Bangera | 100 FS | 01:03.39 | Gold |
| Zahra Sakharwala | 100 FS | 01:07.71 | Silver |
| Kshama Iyer | 100 FS | 01:08.67 | |
| Devanshi Desai | 100 FS | 01:09.50 | |
| Bhumi Gupta | 100 Fly | 01:13.73 | |
| Zahra Sakharwala | 50 BR | 00:39.74 | Gold |
| Palak Dhami | 400 FS | 04:46.90 | Silver |
| Abha Mirashi | 200 IM | 02:46.89 | Silver |
| Pushya Sahajwani | 200 IM | 02:52.79 | |
| Palak Dhami | 200 Bk | 02:33.73 | Silver |
| Rishikesh Bora | 100 Fly | 01:03.74 | |
| Abha Mirashi | 100 Bk | 01:21.42 | |
| Rishikesh Bora | 100 FS | 00:58.18 | |
| Vedaant Madhavan | 100 FS | 00:58.50 | |
| Devanshi. Desai | 50 FS | 00:31.51 | Gold |
| 4 X 50 FS | Girls Group III | | Gold |
| 4 X 50 Medley | Gorls Group III | | Gold |