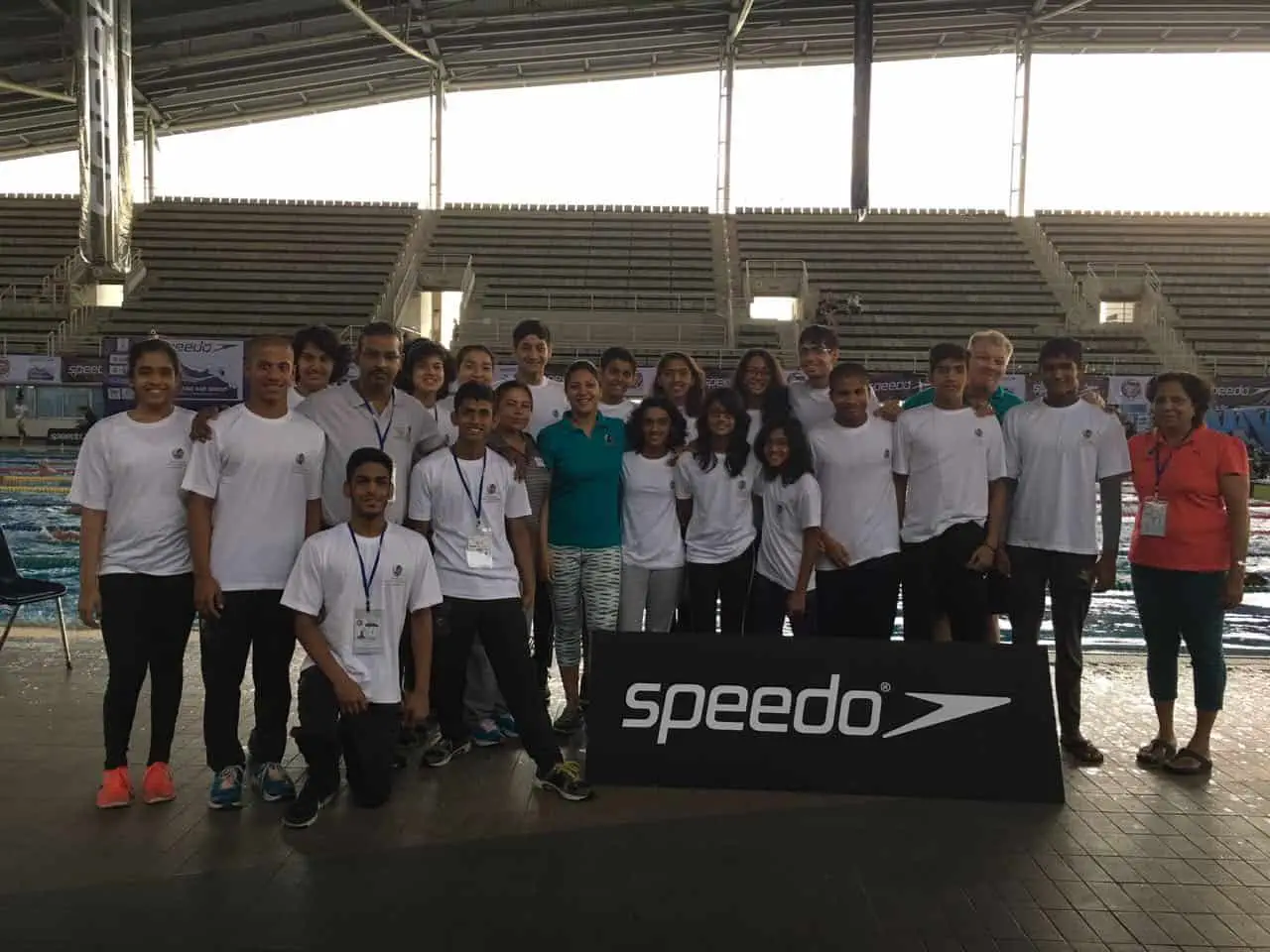 GAF and SGTIDM Swimmers win 17 medals at the Thailand Age Group Swimming Championships 2017.
18 Swimmers representing India Swimmers who train at the Glenmark Aquatic Foundation (GAF) and SAI Glenmark TIDM ( Talent Identification Development and Management) program won a total 5 Gold, 8 Silvers and 4 Bronze medals at the Thailand Age Group Swimming Championships held at Bangkok between April 1st– 5th 2017 .
The Thailand Age Group Swimming Championships is a FINA recognized event which is also a qualifier for major International meets including the World Swimming Championships at Budapest. A total of  1000 swimmers participated in the Event.
National Champion Swadesh Mondal won a total of 3 golds and 3 silvers to emerge as one of the best swimmers at the Event. The other medal winners included Kushargra Rawat (1 Gold, 1 Silver), Xavier Dsouza ( 1 Gold, 1 Silver and 1 Bronze), Bastab Tapan Bordoloi (1 Silver, 1 Bronze), Vedant Bapna ( 1 Silver), Annie Jain ( 1 Silver)  and Jyotsna Pansare ( 2 Bronze).
The 18 swimmers were supported by  Glenmark Aquatic Foundation as a part of its objective  to produce International Champions by transforming the ecosystem of swimming in India. Glenmark Aquatic Foundation has Olympian Clive Rushton as its technical Director, Peter Carswell who has coached Olympian Leah Nealle from Australia to the Rio Olympics as Head Coach Mumbai. Partha Pratim Majumdar heads the coaching in Delhi. The other coaches include Mr. Bushan Kumar, Arjuna Awardee winner Smita Divgikar Senior coaches D.S. Chikara, Ms. Parampal Johar and National Champions Komal Athare and Sathish Kumar. GAF has also tied up with Sports Authority of India and Swimming Federation of India.
Results of Medal Winners
Swadesh Mondal
 
Kushagra Rawat
Medal
Event
Timing
Group
Medal
Event
Timing
Group
Gold
50 BR
00:32.70
Boys -Group-3
Gold
400 FS
04:10.28
Boys-Group-1
Gold
200 IM
02:19.24
Silver
200 FS
01:58.16
Gold
400 IM
04:58.02
Bastab Tapan Bordoloi
Silver
400 FS
04:31.63
Medal
Event
Timing
Group
Silver
100 BR
01:11.80
Silver
100 Fly
00:59.43
Boys-Group-2
Silver
200 BR
02:34.02
Bronze
200 FS
02:02.40
Jyotsna Pansare
 
Xavier Dsouza
Medal
Event
Timing
Group
Medal
Event
Timing
Group
Bronze
200 BK
02:31.87
Girls-Open
Gold
200 BK
02:12.64
Boys-Group-1
Bronze
50 BK
00:31.58
Silver
100 FLY
00:57.12
Bronze
50 FLY
00:26.27
Annie Jain
Vedant Bapna
Medal
Event
Timing
Group
Medal
Event
Timing
Group
Silver
200 BK
00:35.15
Girls-Group-2
Silver
200 BK
02:16.95
Boys-Group-2