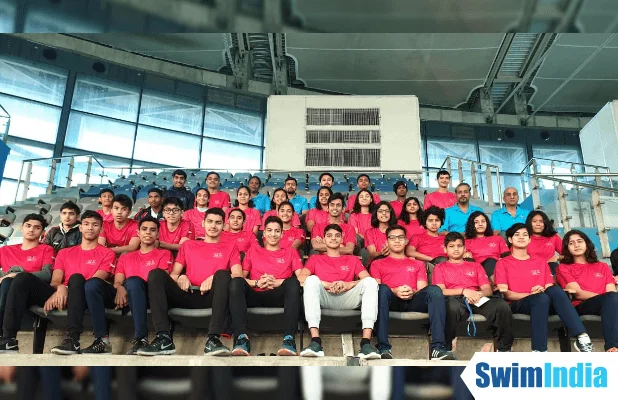 Delhi Emerges as the Champions for the 3rd Time in the 64th SGFI National School Games 2018 -19, Delhi
Delhi emerged as the Champions in the 64th SGFI National School Games for swimming which concluded at the Dr SPM Swimming Complex in the Capital. Led by the swimmers of the SAI Glenmark TIDM programme Delhi retained its pole position and made it a hat trick of wins.
Swadesh Mondal led the charge winning gold in all his individual events while his teammates at the SGTIDM programme including Jahnvi Choudhury, Sivangi Sharma, Veer Khatkar, Sanskar Tokas, Anurag Singh and Bikram Changmai produced exceptional performances.
Delhi won the championships securing 62 medals which comprised 32 Gold, 23 Silver and 7 Bronze medals.
The girls from Maharashtra had a fabulous event as they helped the state finish second overall in the championships. Maharashtra won 54 medals which included 17 Gold, 19 Silver and 18 Bronze medals.
Sharon Shaju, Kareena Shankta, Apeksha Fernandes, Sanjiti Saha, Aanya Wala and Ariaa Sheth led the charge for Maharashtra.
Maharashtra lost a few individual medals as ace swimmers like Kiara Bangera, Palak Dhami and Vedaant Madhavan from GAF Mumbai who won 3, 3 and 2 medals respectively took part under the banner of International School.
Karnataka finished third in the medal tally with securing 35 medals including 9 Gold, 12 Silver and 14 Bronze medals. K Saif Chandran who trains at the GAFRAY swimming programme in Bangalore started the medal rush by winning the 1500 m Freestyle on Day 1. Liteesh Gowda, Rachana S Rao, Mohit Venkatesh, Nandini SS and Thanuja S came up with wonderful performances.